For customers wanting to set up a regular (subscription) shipped order, rather than a one off purchase, all we need to know is which titles you want.
You can do this in two ways.
1. Use our store page at League of Comics (This is easier and our preferred method)
Where you can select what you want to add to your pull list and sync with our store.
You can also use this to keep track of everything you own!
2. You can contact the store through a variety of means, such as email (), Telephone (01484 766363), or through one of our social media pages, such as Facebook.
Once we have your list, we will send out a PayPal invoice which will need to be paid before the order is shipped. This will include a small charge to cover shipping.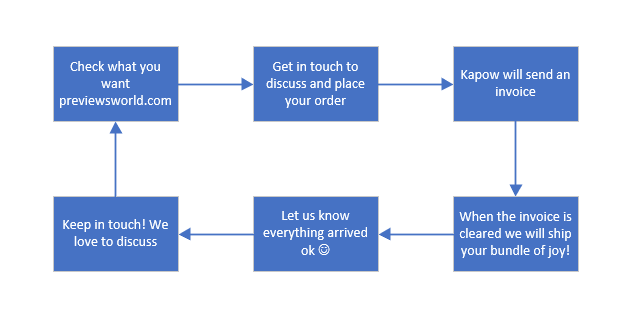 Due to the nature of the print on demand basis of the comic book industry, there is usually a two month lead in time for orders, but this can be longer due to unforeseen delays.
http://www.Previewsworld.com has an expected in store date for each item, and tend to be accurate more than most places.
This means, unless we have a specific book you are looking for on the shelves, the 1st issue you may receive could be in line with the two month lead time.
We always do our best, but its just the way the print world works!
Either weekly or monthly delivery options are available, and we will do what we can to tailor it to your needs.
Each month, you will be emailed to confirm any changes to your order, and we advise all customers to either visit http://www.previewsworld.com for a full list of releases, or check in with us for what new titles will be available.
If you have any questions about pricing or availability, please don't hesitate to get in touch